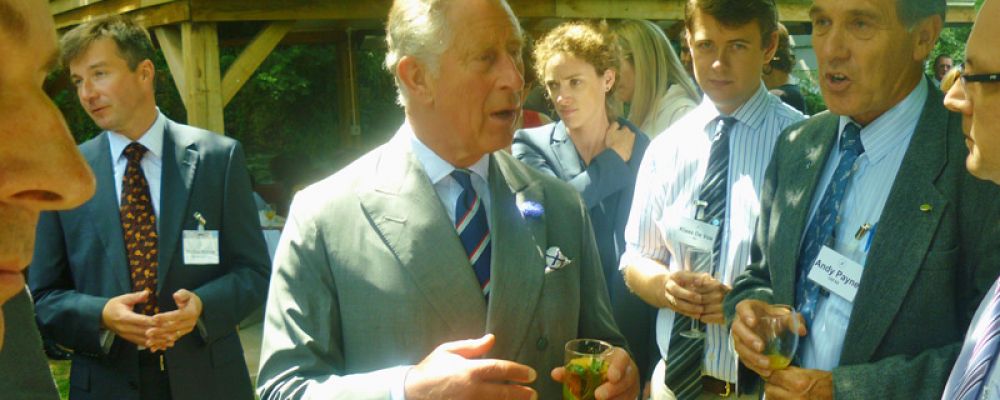 2nd August, 2017 by Berry Head Hotel
Prince Charles Visit
---
Prince Charles and Camilla's Visit to the Berry Head Hotel – Fishing into the Future Conference organised by the Prince's Trust.
On the sunny afternoon of Tuesday 16th July, the Berry Head Hotel was graced with the presence of his Royal Highness the Prince of Wales, and the Duchess of Cornwall.
They arrived in Brixham via helicopter on the headland, before a brief stop in the harbour, then travelling by Bentley to the Berry Head Hotel. As you can see from the photographs, they received an extremely warm welcome from the staff, who have been preparing for the arrival for months.
Prince Charles was met on arrival by the managing director Mr Edward Bence and General Manager Lucinda Chamings, and taken to a conference in the Mulberry room. The Prince gave an inspiring speech to over 100 delegates, with reference to sustainable fishing, a subject very close to him.
To wrap up the afternoon, guests enjoyed a garden party in Berry Head's picturesque walled garden, with his Royal Highness as the guest of honour. They enjoyed Pimms, Prosecco and Canapés in the sunshine, this was enough to make Prince Charles change his schedule for the day and enjoy the reception a little longer.
All the staff at the Berry Head Hotel, would like to express how much of a great honour it was, to meet the Royal Highness, who they are now quite fond of, due to his warm personality, and to host the fishing into the future conference, in our home town of Brixham. We hope that maybe someday, we will be graced with the Royal's again, however, until then, we welcome our customers to walk the corridors that the Prince of Wales did and enjoy Pimms o'clock to their heart's content.
---
---